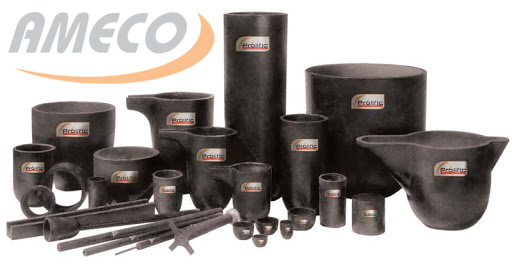 AMECO is one professional agent of Japanese, Indian manufactures. Especially, we supply the Carbon bonded silicon carbide graphite Crucible from Nippon Crucible under trading name " PHOENIX", the first  graphite crucible manufacturer in Japan with many new technologies and improvement. Beside we also supply some other crucible from India, with trading name: " PLATINUM" from Zircar Crucilbe. My Crucibles have some special Properties as bellow:
1.   Thermal spalling resistance 
Extremely higher resistance to rapid heating and cooling with less spalling.
2.   Erosion Resistance 
Extremely higher resistance to metal or flux erosion with its uniform and dense structure.
4.  Oxidation resistance 
The improved base material and the newly developed special glaze provide the excellent oxidation resistance and
remarkably longer service life.
5.  Higher thermal conductivity 
The high percentage of fixed carbon makes the material the higher thermal conduction which ensures shorter
melting time and save fuel consumption.
6.  No metal Contamination 
The base material has been strictly selected so that hardly any metal contamination during melting operation.
7.  Stable Quality
The Cold Isostatic Press (CIP) shaping system and the substantial quality assurance system maintain stable
product quality.